Truebill is a bill negotiation service that promises to save you money on your monthly bills. They have been around for a few years now and claim to have saved their members over $1 million in the process. Is this a legitimate service or just another scam?
Truebill is a service that allows users to negotiate their bills with the company. It is a subscription-based service, and it offers a free trial for new users.
Truebill is a financial software that analyzes your payment history and flags any unused recurring subscriptions for you to cancel. It also assists you in lowering your costs via negotiation.
All types of bill payments are handled automatically in today's internet-dominated society.
Automation is a positive thing in general since it frees up people's time to concentrate on the things that matter to them. You won't have to spend time and effort entering into your accounts to pay invoices or make money transfers.
Automation, on the other hand, has a negative side. It's easy to forget that you have a payment system in place.
Subscription businesses like Amazon, Netflix, and Hulu, for example, know that if you sign up for automatic billing, you're less likely to cancel.
It's all too easy to forget that you've signed up for subscription services, allowing them to empty your account month after month without your knowledge.
Truebill comes in handy here. By eliminating unneeded subscriptions with Truebill, you may possibly save hundreds of dollars each year.
Is Truebill a genuine company? Is it really able to assist you in saving money? In our Truebill review, we'll address all of these questions and more.
What is Truebill and how does it work?
Truebill is a bill-paying software that aims to help you save money on your monthly expenses.
Truebill's goal is to evaluate your monthly expenditure, detect recurring transactions, and allow you to stop them.
Instead of manually processing your financial transactions, you may have Truebill handle it for you.
In addition to removing unnecessary subscriptions, Truebill may assist you in negotiating reduced rates on some invoices. Truebill will take a share of the money you save as payment (more on that later), so unlike subscription monitoring, this element of the service is not free.
Outage tracking and electric saver are only two of Truebill's other capabilities. We'll go over them in more depth later, but suffice it to say that they're designed to help you save even more money on your monthly expenses.
Trim App Review is a related article.
What Is Truebill and How Does It Work?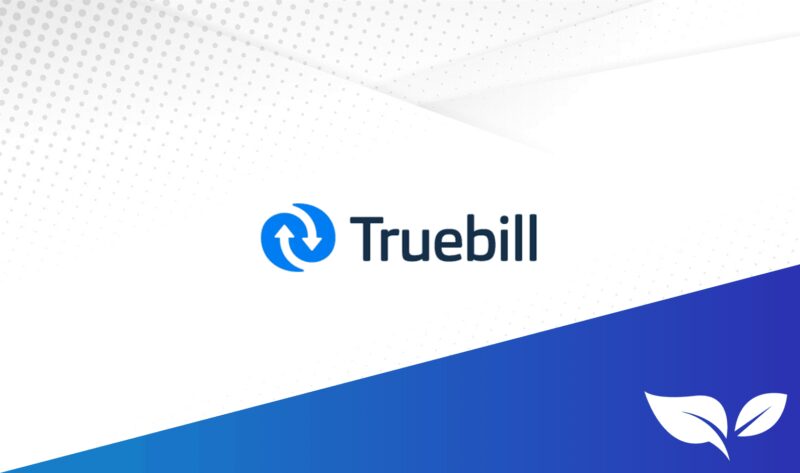 Truebill offers four main services: subscription management, bill negotiation, outage management, and energy bill savings. We'll go through each of these items one by one.
Monitoring of Subscriptions
Truebill's most common usage is to keep track of your monthly subscription fees.
After you've created an account, you may link your bank and credit card accounts. Truebill will quickly review all of your transactions, identify any recurring subscription payments, and tell you how much they cost you each month.
You may cancel any subscription you wish by clicking on "cancel subscription" from there.
Truebill will also plot your payments on a calendar so you know when they're due. This calendar is a great tool for planning out your monthly payments. Truebill can also assist you in recovering refunds and overdraft fines for cancelled services.
Negotiating a Bill
Truebill can also assist you negotiate your bills. Truebill will contact telecom companies on your behalf to negotiate a cheaper cost.
To begin, submit a copy of the bill you'd want to negotiate. Truebill then contacts the business directly and attempts to negotiate a cheaper fee.
Truebill can assist you in finding a better plan, reducing costs, or locating special prices. Truebill claims that they may save you up to 20% on your cable and telecom costs.
However, this service is not free. Truebill takes a fee of 40% of the money you save. So, if you save $200 per year on subscription expenses, Truebill will take a $80 cut.
Truebill typically charges you as soon as you get the savings, and you must usually pay the amount as soon as you receive the savings. That implies you'll lose money in the first month, even if you save money overall over the course of the year.
Electric Saver and Outage Monitoring
Truebill also checks for outages with cable and internet providers in your area. Truebill automatically seeks a refund or credit to your cable account if there is an area-wide outage.
This is a one-of-a-kind feature that few other money-saving applications provide. Depending on your cable provider, this may add up to a significant amount of money over time.
Truebill will also collaborate with Arcadia Power to help you save money on your energy bill. This function is not accessible everywhere, however it is available in regions with deregulated energy.
This energy saver function, according to users, may save you up to 30% of your monthly power bill. Over the course of a year, this adds up to a significant sum of money.
How To Make Money Online is a related topic.
Fees for Truebill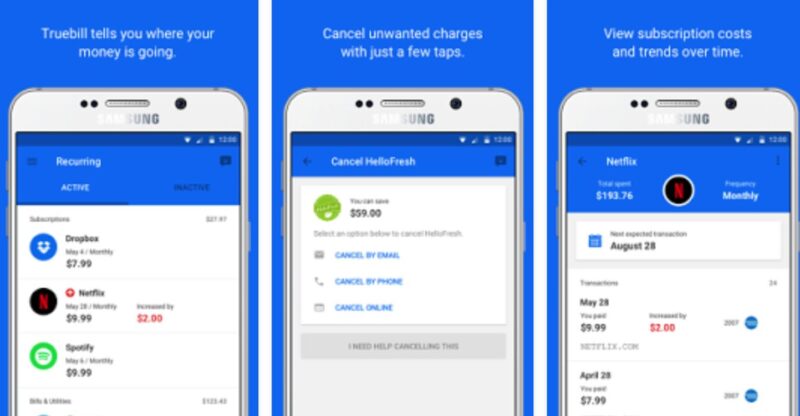 Truebill is a free program to download, and subscription monitoring is also free. However, you must pay for the premium service if you want to be able to cancel subscriptions straight from the app.
Truebill premium costs $3 to $12 per month, or $36 to $140 per year. Balance synchronization, premium chat, cancellations, concierge, smart savings, and more are all available as part of the premium package.
It also costs money to negotiate a bill. Truebill will take a 40% cut of whatever money you save by switching your bills.
They charge this cost in advance, so you'll have to pay it as soon as you've set aside enough money for the year. Truebill, fortunately, will only charge for bill negotiation if it is successful.
So you don't have to pay if your bill isn't negotiated. Truebill, on the other hand, takes 40% of the credit you get from electricity outage monitoring.
Although you may use Truebill for free, your choices will be restricted. Once you've received your pay advance, you may additionally leave Truebill a tip. This is completely voluntary, and not tipping has no impact on your Truebill services.
Is Truebill going to sell my personal information? Is It Advisable to Use It?
Truebill uses your information to display advertisements for financial products from its partners, according to its website, but it does not provide personally identifiable information to these businesses.
If you opt to connect with insurance or credit card comparison sites, your information will be shared with them.
Otherwise, Truebill is completely secure and safe to use. The program connects to your bank account, but since it lacks authorization, it can't make any transactions.
So, even if a hacker manages to get access to your Truebill account, they won't be able to take your money or anything.
On your personal data, Truebill utilizes industry-standard 256-bit encryption. Truebill now offers 2-factor verification when you connect your Truebill account to another linking provider for further protection.
How To Save Money Quickly is a related article.
Pros and Cons of Truebill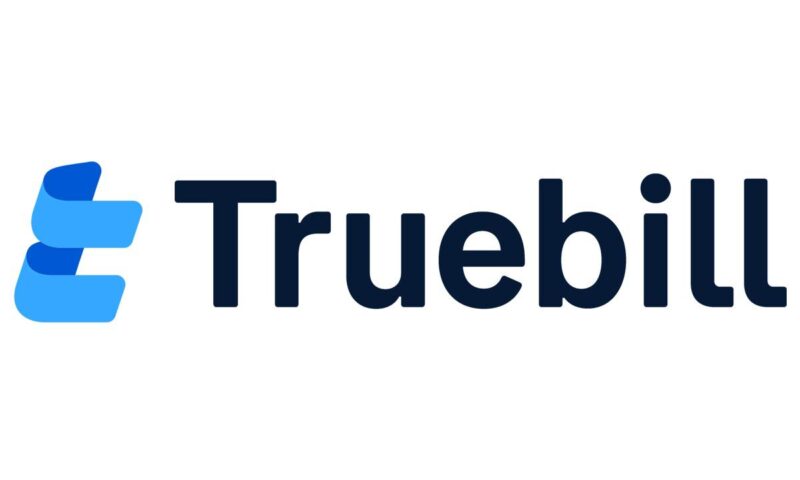 Pros
Subscriptions should be canceled. Truebill will search your transaction history for any unwanted subscriptions that are depleting your bank account. It's a lot faster than going through them one by one.
Negotiation of a bill Truebill will also handle the tedious task of bill negotiation on your behalf. Even after costs, this may save you a lot of money on bills each month/year.
Monitoring of the outage. Outage monitoring is a one-of-a-kind function that credits and reimburses you for any cable or telecom outages that occur in your region. It's a feature that few other applications provide.
Cons
This is not a free service. Truebill's basic services are not free, but you must pay for the premium version to be able to cancel your subscriptions via the app. They also collect 40% of the money saved through bill negotiation.
Advertisements inside the app. If you have the free version, you will have to endure in-app advertisements until you upgrade to the premium service, which is ad-free. It's not a big issue, but it will irritate certain people.
Customer feedback has been negative. Truebill has a lot of complaints on their BBB website, most of which are over their negotiation services and costs. These bad reviews should be enough to make a person think twice.
Final Thoughts
Is Truebill a good investment? Yes, yes, yes, yes, yes, yes, yes, yes, yes, yeah, yes You may have Truebill look through your accounts for you if you have a lot of subscriptions and don't want to spend time doing so.
It's also useful if you don't want to deal with bill negotiations yourself. Some of the costs, particularly those for bill negotiation, are very high, but the premium service membership is not.
Truebill will be of little help to you if you are already on top of your bills and expenditures. However, if you are overworked, it may be worthwhile.
Even if you have to pay 40% for bill negotiation, a 60% discount is still better than nothing.
You may use the Trim Financial Manager in addition to Truebill to reduce your bills and save money.
Further reading:
Truebill
Free
Pros
Subscriptions are canceled.
Bills are negotiated.
Outages are tracked.
Cons
Customer service is lacking.
Advertisements inside the app
The is truebill legit reddit is a question that has been asked many times. Truebill, which bills itself as a bill negotiation service, was recently released and it's time for people to review the service.
Frequently Asked Questions
Can I trust Truebill?
Yes, you can trust Truebill.
Does Truebill really lower your bills?
Yes, Truebill really does lower your bills. Q: Does Truebill work with Apple? Yes, Truebill works with Apple.
What bills can Truebill negotiate?
Truebill can negotiate bills with any company, including your electric company.
Related Tags
truebill complaints
is truebill legit
what is truebill
truebill reviews 2023
trim vs truebill